RPCEmu is a RISC OS emulator is an open source project hosted  at www.marutan.net/rpcemu.
It simulates an Acorn RiscPC and achieves comfortable RISC OS experience on modern WIndows, Linux or macOS systems.
We have contributed some enhancements to RPCEmu which haven't been included in recent release of RPCEmu yet. So we offer it for download here.
The code for out changes you can find here: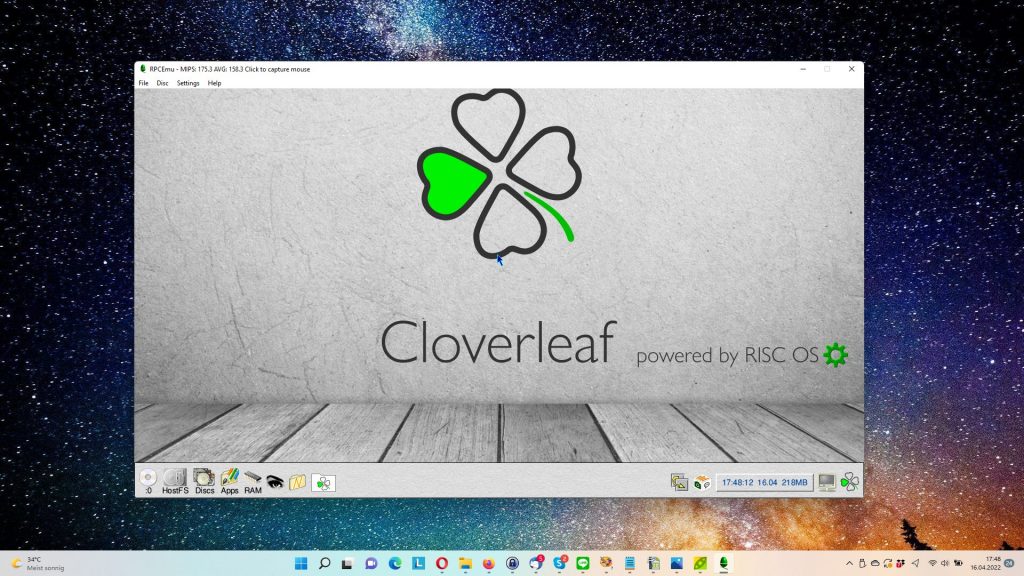 The additional feature sof the Cloverleaf version of RPCEmu are:
Mouse wheel scrolling
Clipboard integration between Host system and RISCOS (with images and text support)
Fullscreen Startup and automatic termination on Shutdown options
MacOS support
In each of the ZIP donwload files there are included the RISC OS emulator for Windows,
Mini: RPCEmu CL 0.94 (with minimal RISC OS 5.27 setup) (224 MB size)
Download login: cloverleaf   Password: rpcemu
Download RPCEmu CL 0.9.4 Mini
Direct: RPCEmu CL 0.94 (with RISC OS Direct 5.27) (1 GB size)
Download login: cloverleaf   Password: rpcemu
Download RPCEmu CL 0.9.4 Direct
Cloverleaf Standard RISC OS distro 5.29 with RPCEmu CL 0.94 (2 GB size)
Cloverleaf Plus RISC OS distro 5.29 with RPCEmu CL 0.94 (2 GB size)
Cloverleaf Art RISC OS distro 5.29 with RPCEmu CL 0.94 (2 GB size)